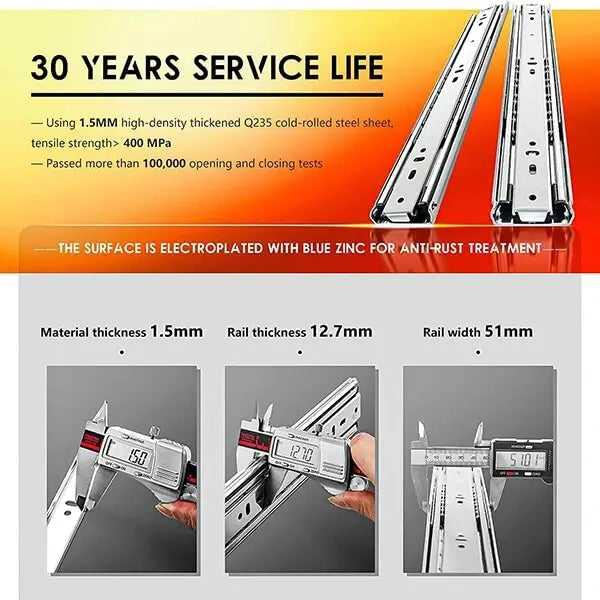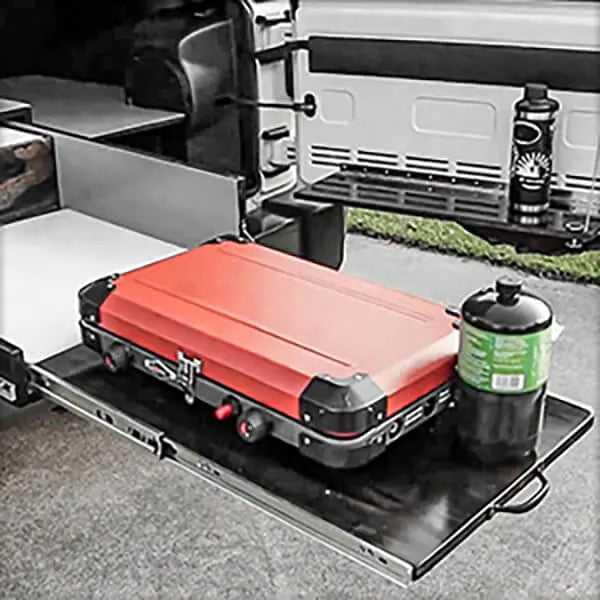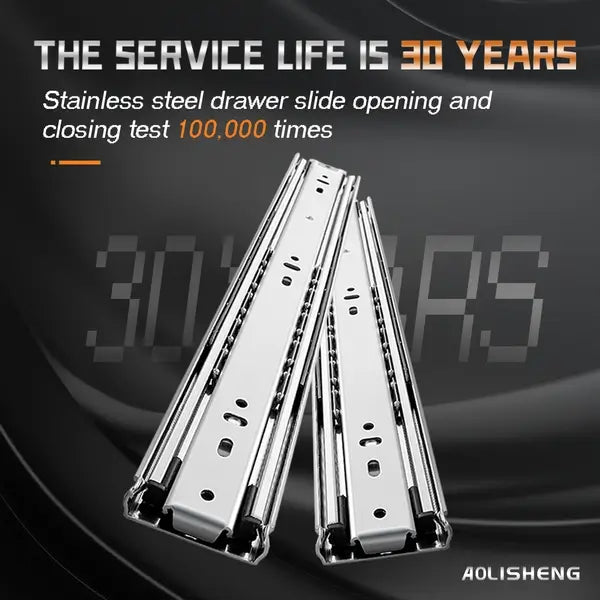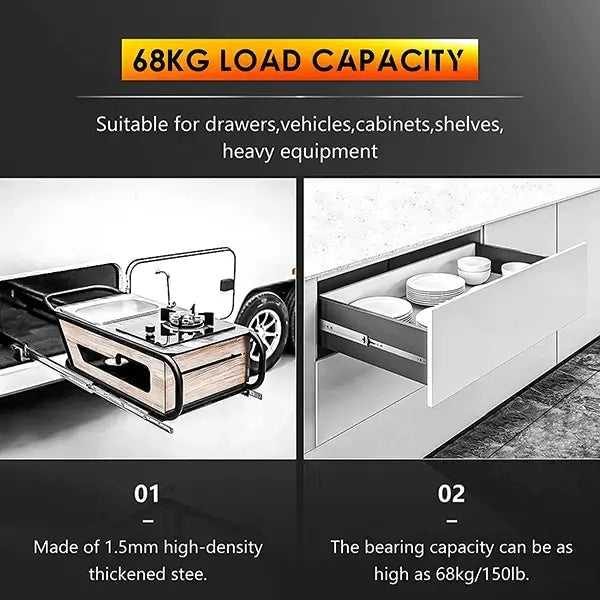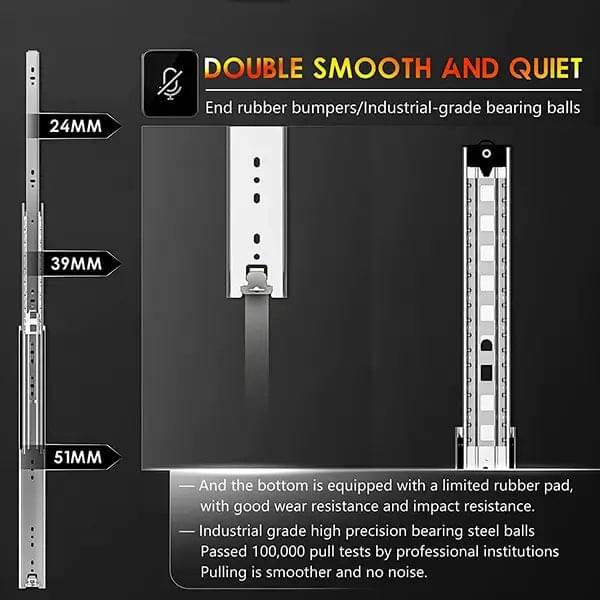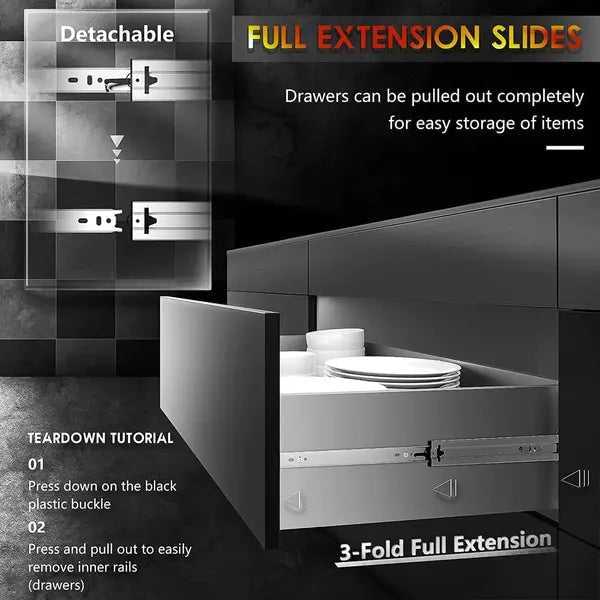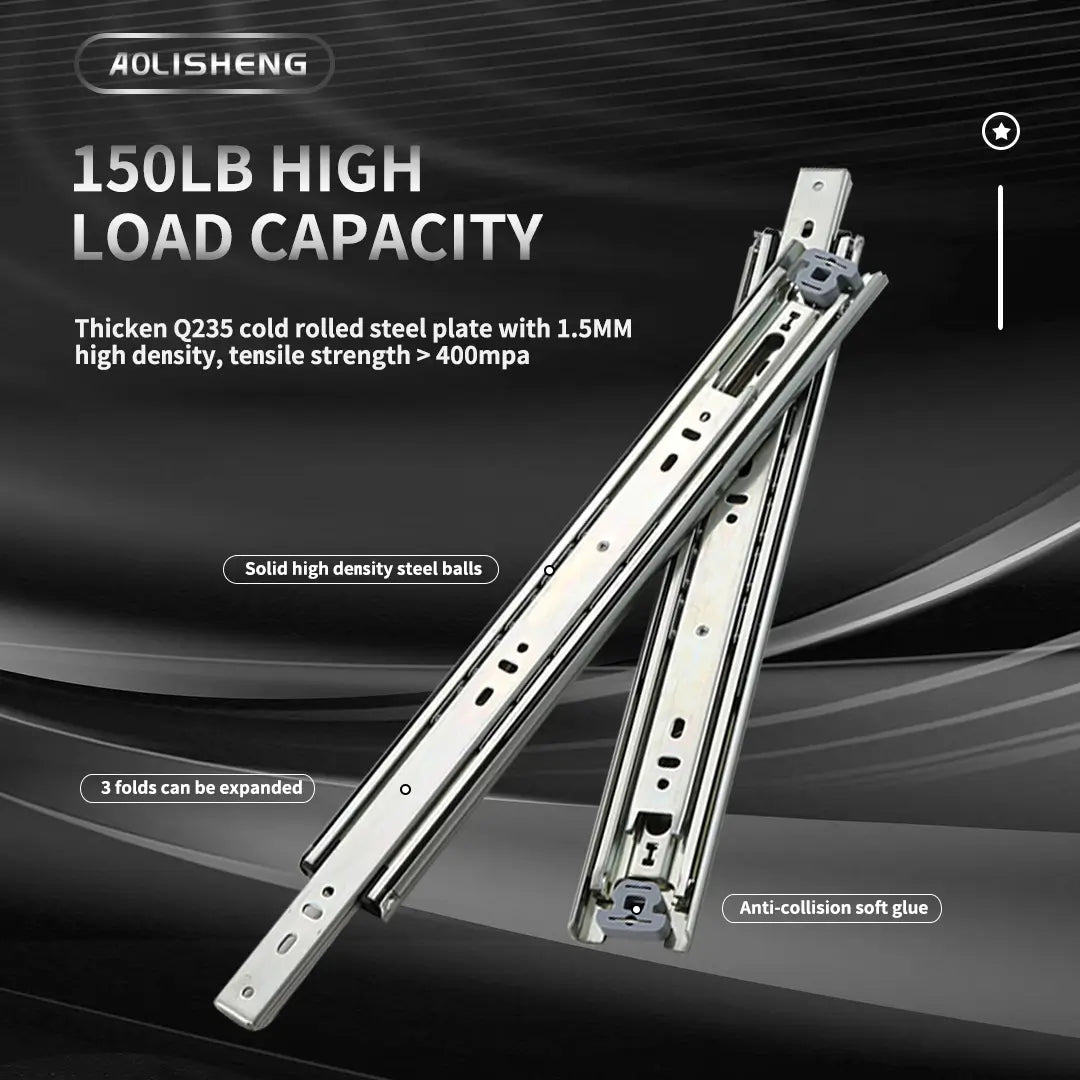 150 lb 3 Section Full Extension Ball Bearing Drawer Slide
Sizes:12 14 16 18 20 22 24 26 28 30 32 34 36 38 40 inch:
Sizes:12 14 16 18 20 22 24 26 28 30 32 34 36 38 40 inch
In stock
Heavy Duty Full Extension Drawer Slides
150LB heavy-duty drawer slides, high load-bearing, accommodate more needs, service life up to 30 years, suitable for various household cabinets and can also be used for industrial drawers, RVs, trucks, woodworking, shelves, cabinets, vending machines etc.
Discover more about the Heavy Duty Drawer Slides

Product Description:

Strict Quality Assurance
Ball bearing drawer slides glide smoothly
3-fold fully unfolded detachable, fully unfolded drawer slides without noise
Ball bearing drawer slides pull smoothly and last up to 30 years
Surface galvanized blue sealing process, double-layer anti-rust
The carrying capacity is three times that of ordinary slide rails, and the maximum carrying capacity is 150lb
Made of thickened Q235 high-strength cold-rolled steel, it can support heavy loads and store without deformation
There is a limited rubber pad at the bottom, made of ABS plastic, with good wear resistance and good crash resistance
Rail Notes:

When installing, be sure to keep the slide rails on both sides parallel. Slanted or out of parallel will affect normal use.
Mounting screws and brackets are not included, and you can purchase different M4 screws according to specific installation scenarios.
You can choose the size of the rails according to the depth of the drawer. The length of the rail should be less than or equal to the length of the drawer
Product Dimensions:
Width: 51MM
Thickness: 1.5MM
Include Size: 12 14 16 18 20 22 24 26 28 30 32 34 36 38 40inch
Craft:
Material: Q235 cold rolled steel
Deal With: Surface electroplating blue zinc
Structure:Detachable
Installation Requirements:
Installation thickness: 13+0.5mm
Load capacity: 68KG/150LB
Installation method: side mount
Plate Thickness: 1.5MM
Application Scenario:
Various cabinets for home use can also be used for industrial drawers, RVs, trucks, woodworking, shelves, cabinets, vending machines and more.
Bulk Purchase Discounts: Please Contact us
Return
Time limit for accepting returns
We accept 15 days to returns,from the day customer received the product and order finished,if product has any quanlity problem,we will according to the condition to return.
If you would like to return the product for different reasons, you have to pay the shipping fees according to the distance.All returns must be authorized by AOLISHENG. Any return without our prior knowledge will not be accepted and a refund will not be issued.,Please contact us before you return
Contact Information
Fill out the contact us form page(Contact us)
Send message to our offical email box(info@aolisheng.com)
Whatsapp:+86 15200568538
Then there's the after-sale service will contact you to confirm return
Below condition need to be attention: 
Refurbished or used products are not refundable.
Customers will be responsible for all shipping charges.
Products must be returned in original packaging, in like-new condition. Customers are responsible for the correct re-packing of products when returned to ensure damage does not occur during shipment.
For returns, international customers are responsible for all shipping charges as well as any applicable duties and taxes.
Once the return confirm,we will offer the return address.
Change&Cancellation
You have the right to cancel or modify an order before it ships, but we do not accept any changes or cancellations to custom orders.
All interpretation rights belong to AOLISHENG.
Insufficient bearing capacity
When I installed it on the microwave cabinet, it didn't pull smoothly
Hello, first of all, we apologize for the unsmooth use of the slide rail. This 51MM wide slide rail can definitely reach 150lb. There are several reasons why the slide rail does not pull smoothly:
1. Installation problem, there is no horizontal alignment on both sides
2. The temperature difference that this slide rail can bear is -15 degrees Celsius to 75 degrees Celsius. If the temperature is too high or too low, it will lead to unsmooth pulling
3. The fixing screw is not fully tightened, causing the screw to rub against the slide rail
4. The installation space on both sides is too small, and the slide rail will not be pulled smoothly
5. For objects over 150lb, it is recommended to consult customer service before placing an order. You can choose 250lb and 500lb products
Too long
This slide is perfect for replacing the old slide on the chest of drawers. But the transit time is too long
Trust
Fast delivery, affordable price and great quality product!
Ok, but not great
The balls fell out of one when I tried to install. None of the holes aligned with the holes in the drawer or the frame.
Really heavy duty which I really needed