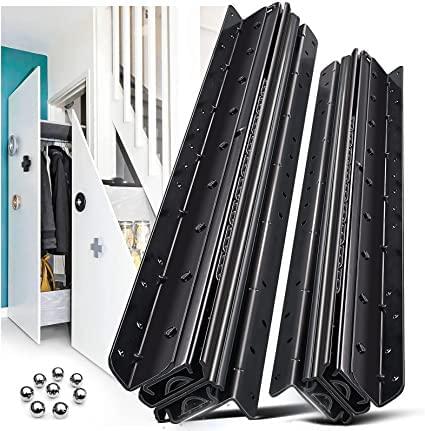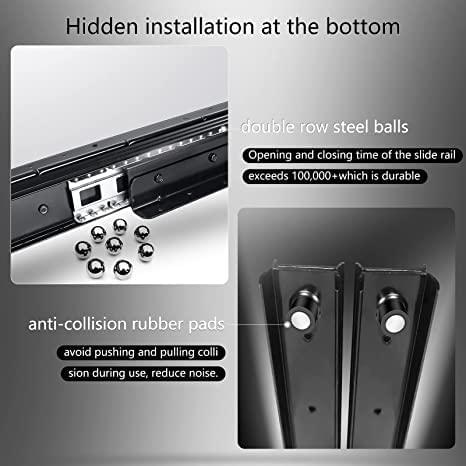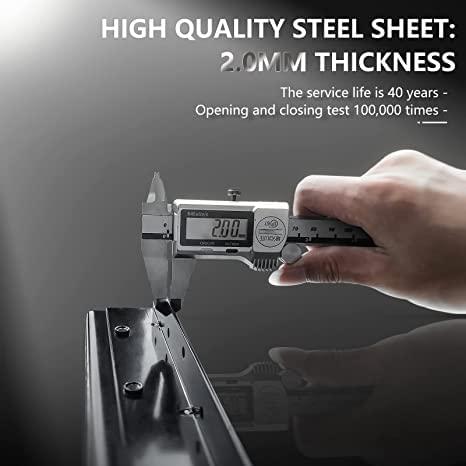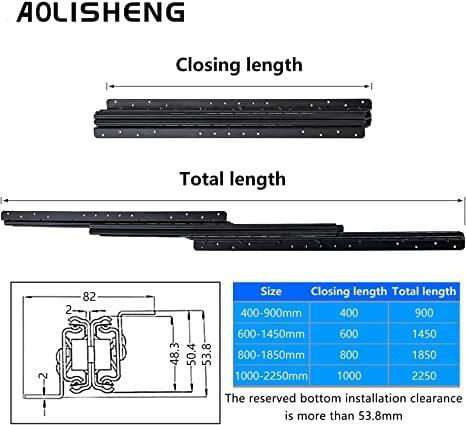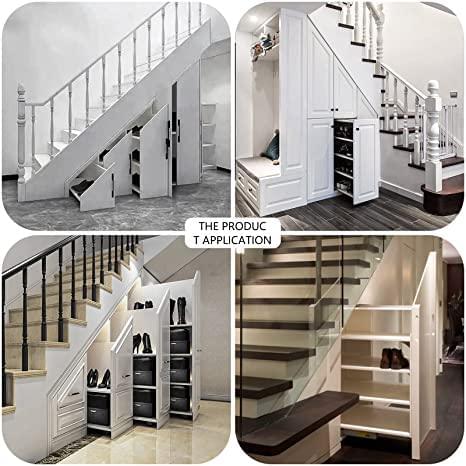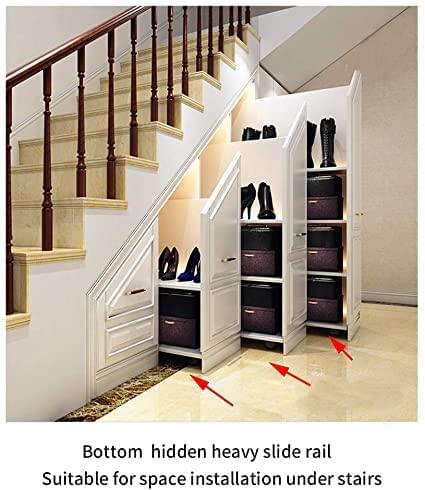 Load Bearing 265 lb Stair Cabinet Bottom Mount Slides 1 Pair
heavy duty drawer slides bottom mount
The A2047 bottom mount heavy duty drawer slide has a maximum load capacity of 260 lbs. The bottom installation can play a hidden role, which is more beautiful and practical. Use only for large containers, drawers, wardrobes, wine cabinets, under stair lockers, etc.
Discover more about the Heavy Duty Drawer Slides
The unique double-layer thickened steel plate can increase the load-bearing capacity to more than 260 pounds.
After testing by a professional testing agency, the drawer slides have been opened and closed more than 100,000 times.
Anti-collision rubber pads are provided at the end of the track to better protect the track from being damaged.
Tri-fold fully-extending drawer slides are more than twice as long when fully extended than when closed
Precautions For Slide Rails

In order to ensure the safety of users, the heavy-duty slide rails cannot be disassembled.
Installation suggestion, reserve height of 53.8mm between the cabinet body and the bottom plate, and install at the bottom.
Due to different usage scenarios, the product does not include screws. M5 screws can be purchased by yourself.
---
Product Dimensions:
Width: 47MM
Thickness: 2.0MM
Include Size: A2047-400-900MM A2047-600-1450MM A2047-800-1850MM A2047-1000-2250MM
Craft:
Material: Q235 cold rolled steel
Deal With: surface
electroplating blue zinc
Structure: non-detachable
Installation Requirements
Installation thickness: 53.8+0.5mm
Load capacity: 120KG/265LB
Installation method: bottom mount
Plate Thickness: Outer Slider (2.0mm) / Middle Slider (2.0mm) / Inner Slider (2.0mm)
Application scenario:
Cabinets, stairs, heavy drawers, wardrobes, wine cabinets, various stair cabinets
Bulk Purchase Discounts: Please Contact Us
Return
Time limit for accepting returns
We accept 15 days to returns,from the day customer received the product and order finished,if product has any quanlity problem,we will according to the condition to return.
If you would like to return the product for different reasons, you have to pay the shipping fees according to the distance.All returns must be authorized by AOLISHENG. Any return without our prior knowledge will not be accepted and a refund will not be issued.,Please contact us before you return
Contact Information
Fill out the contact us form page(Contact us)
Send message to our offical email box(info@aolisheng.com)
Whatsapp:+86 15200568538
Then there's the after-sale service will contact you to confirm return
Below condition need to be attention: 
Refurbished or used products are not refundable.
Customers will be responsible for all shipping charges.
Products must be returned in original packaging, in like-new condition. Customers are responsible for the correct re-packing of products when returned to ensure damage does not occur during shipment.
For returns, international customers are responsible for all shipping charges as well as any applicable duties and taxes.
Once the return confirm,we will offer the return address.
Change&Cancellation
You have the right to cancel or modify an order before it ships, but we do not accept any changes or cancellations to custom orders.
All interpretation rights belong to AOLISHENG.
Works well, just the right size
Installed, installed in the car cut under the refrigerator, very good, just the right size
The slide rail is very good, thick enough
The slide is very good, thick enough to bear the weight of high customer satisfaction, good installation next time will buy this again.
Ball dropping
When I was installing it, the ball fell off from inside the slide, and the experience was very bad
No derailment, safe
Very good to use I am installed in the bathroom dry area partition cabinet, before the use of mopping slide customers say wobbly, this installed does work well, the main thing is not to derail, safe! This side is very satisfied!
A very satisfied shopping
Logistics is very fast, things are very good, the quality is very good, and the seller described exactly the same, very satisfied, really like, completely exceeded expectations, shipping speed is very fast, packaging is very careful and strict, logistics company service attitude is very good, delivery speed is very fast, very satisfied with a shopping