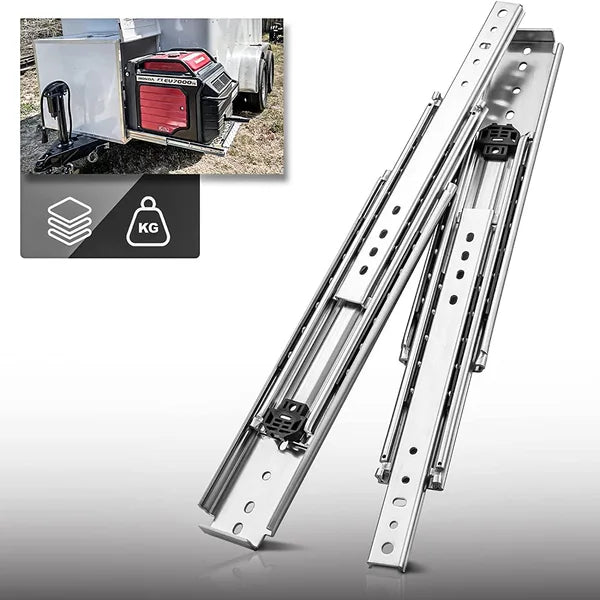 1 Pair 76mm Wide Heavy Duty Drawer Slide Rails Load Bearing 500 lbs Ball Bearing Side Mounted
Full Extension Heavy Duty Drawer Slides
500LB heavy-duty drawer slides, with a service life of 30 years The three-section guide rails are all made of thickened Q235 steel plates with a thickness of 2.5mm. They are made of high-strength, high-density high-quality cold-rolled steel to accommodate more needs, suitable for car modification, mechanical equipment , shelf toolbox, etc.

Discover more about the Heavy Duty Drawer Slides

Made of thickened Q235 high-strength cold-rolled steel
After testing, the number of opening and closing times has reached more than 200,000 times
Ball bearing drawer slides pull smoothly and last up to 30 years
3-fold fully unfolded detachable, Surface galvanized blue closed process, double-layer anti-rust
The carrying capacity is three times that of ordinary slide rails, and the maximum carrying capacity is 500lb
The bottom has a limit rubber pad, made of ABS plastic, with good wear resistance and good crash resistance
Installation Precautions:
When installing the slide rail: Please leave 0.77 inches of slide rail space on both sides to prevent the slide rail from being stuck during use or accidentally damaged during installation.
To ensure the safety of users, the heavy-duty slide rails cannot be disassembled.
Due to different usage scenarios, this product does not contain screws, and M6 screws can be bought by yourself.
Rails start at 18 inches and reduce weight by 10lb for every additional two inches.
---
Product Dimensions:
Width: 76MM
Thickness: 2.5MM
Include Size: 12 14 16 18 20 22 24 26 28 30 32 34 36 38 40 42 44 46 48 50 52 54 56 58 60inch
Craft:
Material: Q235 cold rolled steel
Bearing:Carbon steel solid steel ball
Deal With: surface electroplating blue zinc
Installation Requirements:
Installation thickness: 19.6±0.5mm
Load capacity: 220KG/500LB
Installation method: side mount
Plate Thickness: Outer Slider (2.5mm) / Middle Slider (2.5mm) / Inner Slider (2.5mm)
Application Scenario:
shelves, cabinets, industrial drawers, RVs, trucks, woodworking, vending machines, etc.
Bulk Purchase Discounts: Please Contact Us
Return
Time limit for accepting returns
We accept 15 days to returns,from the day customer received the product and order finished,if product has any quanlity problem,we will according to the condition to return.
If you would like to return the product for different reasons, you have to pay the shipping fees according to the distance.All returns must be authorized by AOLISHENG. Any return without our prior knowledge will not be accepted and a refund will not be issued.,Please contact us before you return
Contact Information
Fill out the contact us form page(Contact us)
Send message to our offical email box(info@aolisheng.com)
Whatsapp:+86 15200568538
Then there's the after-sale service will contact you to confirm return
Below condition need to be attention: 
Refurbished or used products are not refundable.
Customers will be responsible for all shipping charges.
Products must be returned in original packaging, in like-new condition. Customers are responsible for the correct re-packing of products when returned to ensure damage does not occur during shipment.
For returns, international customers are responsible for all shipping charges as well as any applicable duties and taxes.
Once the return confirm,we will offer the return address.
Change&Cancellation
You have the right to cancel or modify an order before it ships, but we do not accept any changes or cancellations to custom orders.
All interpretation rights belong to AOLISHENG.
Great Customer Service
The rails are of good quality and durable.
Very good value for money
I am very happy with these rails, I have them in a large drawer (12001350380) under my bed in the t5
Think about your worth limit
Worth spending the extra on a set with a higher weight load. They perform a lot better than maxing out the limit
Im more than happy with these and world buy again
it's all ok
Very practical good easy assembly
Install to outside first. Use buttonhead allen bolts on 2 center mounting locations
The product looks sturdy and well made, but I am surprised that there is no accompanying documentation, such as installation dimensions. Other than that everyone looks fine