150 lb Capacity Side Mount Tool Box Locking 3-fold extension slide Rail
Sizes:12 14 16 18 20 22 24 26 28 30 32 34 36 38 40 inch:
Sizes:12 14 16 18 20 22 24 26 28 30 32 34 36 38 40 inch
In stock
Black friday deals20% Off discount automatically applied at checkout
Ball Bearing Drawer Slides with Lock
150LB heavy-duty lockable drawer slides can be unlocked and locked by pulling the lock handle, detachable, high load-bearing, accommodate more needs, suitable for various household cabinets and can also be used for industrial drawers, Rvs, trucks, woodworking, shelves, cabinets, vending Freighter etc.
Pull the lock handle to unlock and lock, detachable.
Ball bearing drawer slides glide smoothly
3-fold fully unfolded and detachable, easy to use
Ball bearing drawer slides pull smoothly and last up to 30 years
Surface galvanized blue sealing process, double-layer anti-rust
The carrying capacity is three times that of ordinary slide rails, and the maximum carrying capacity is 150lb
Made of thickened Q235 high-strength cold-rolled steel, it can support heavy loads and store without deformation
There is a limited rubber pad at the bottom, made of ABS plastic, with good wear resistance and good crash resistance
Rail Notes:
When installing, be sure to keep the slide rails on both sides parallel. Slanted or out of parallel will affect normal use.
Mounting screws and brackets are not included, and you can purchase different M4 screws according to specific installation scenarios.
You can choose the size of the rails according to the depth of the drawer. The length of the rail should be less than or equal to the length of the drawer.
With lock design, press the lock head, the drawer is locked when it is fully opened or closed, preventing accidental sliding out
---
Product Dimensions:
Width: 51MM
Thickness: 1.5MM
Include Size: 12 14 16 18 20 22 24 26 28 30 32 34 36 38 40inch
Craft:
Material: Q235 cold rolled steel
Function: with lock
Deal With: Surface electroplating blue zinc
Structure:Detachable
Installation Requirements:
Installation thickness: 13±0.5mm
Load capacity: 68KG/150LB
Installation method: side mount
Plate Thickness: 1.5MM
Application Scenario:
Various cabinets for home use can also be used for industrial drawers, RVs, trucks, woodworking, shelves, cabinets, vending machines and more.
Bulk Purchase Discounts: Please Contact us
Return
Time limit for accepting returns
We accept 15 days to returns,from the day customer received the product and order finished,if product has any quanlity problem,we will according to the condition to return.
If you would like to return the product for different reasons, you have to pay the shipping fees according to the distance.All returns must be authorized by AOLISHENG. Any return without our prior knowledge will not be accepted and a refund will not be issued.,Please contact us before you return
Contact Information
Fill out the contact us form page(Contact us)
Send message to our offical email box(info@aolisheng.com)
Whatsapp:+86 15200568538
Then there's the after-sale service will contact you to confirm return
Below condition need to be attention: 
Refurbished or used products are not refundable.
Customers will be responsible for all shipping charges.
Products must be returned in original packaging, in like-new condition. Customers are responsible for the correct re-packing of products when returned to ensure damage does not occur during shipment.
For returns, international customers are responsible for all shipping charges as well as any applicable duties and taxes.
Once the return confirm,we will offer the return address.
Change&Cancellation
You have the right to cancel or modify an order before it ships, but we do not accept any changes or cancellations to custom orders.
All interpretation rights belong to AOLISHENG.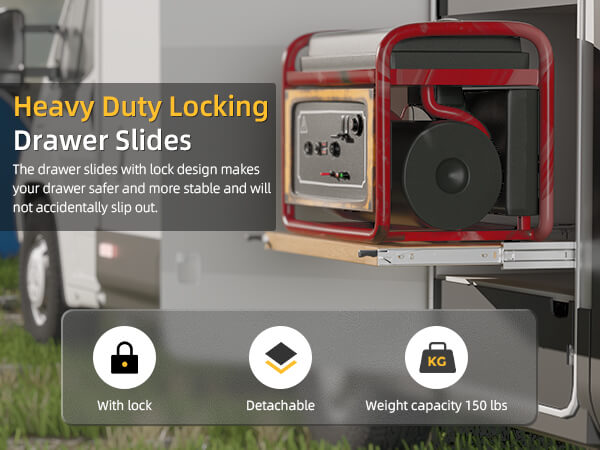 AOLISHENG
Heavy Duty LockingDrawer Slides
The drawer slides with lock design makesyour drawer safer and more stable and willnot accidentally slip out.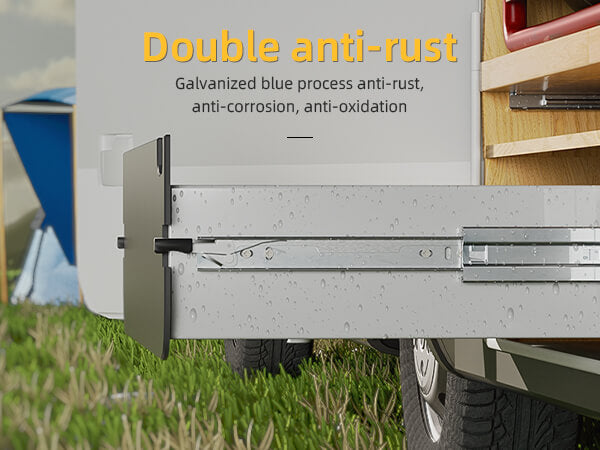 AOLISHENG
Heavy Duty Slides Double Anti Rust
Galvanized blue process anti-rust,anti-corrosion,anti oxidation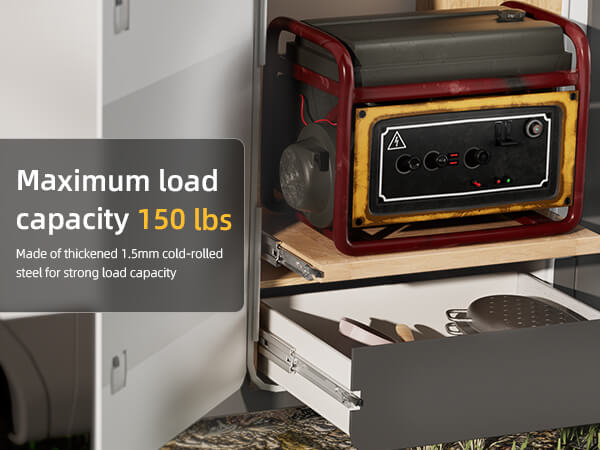 AOLISHENGH
Heavy Duty Tool Box Slides
Made of thickened 1.5mm cold-rolled steel for strong load capacity,maximum loadcapacity 150 lbs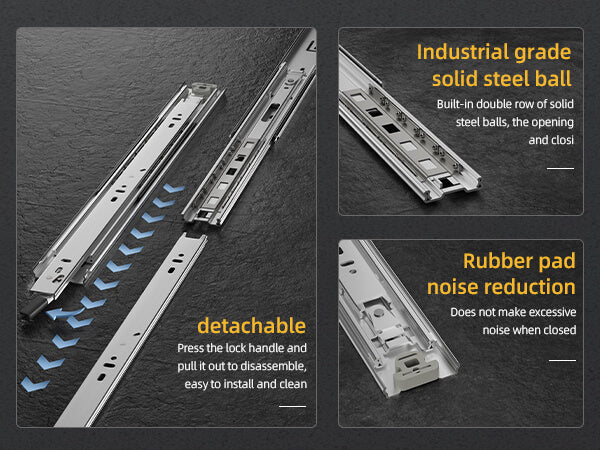 AOLISHENG
Lock In Drawer Slides
Detachable press thelockhandle and pullit outto disassemible.easy toinstalland clean
Industrial gradesolid steel ball built-In double row ofsolidsteel balls,closing andopening smoother
Rubber padnoise reduction does not makeexcess ivenoise when dlosed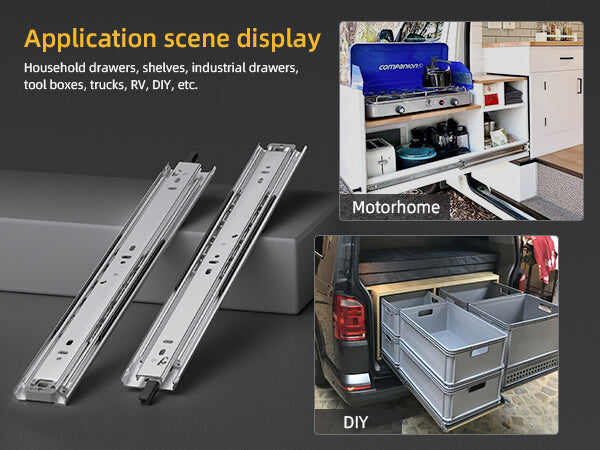 AOLISHENG
RV Drawer Slides DIY
Application scene display
Household drawers, shelves, industrial drawers,tool boxes, trucks, RV, DIY, etc.
AOLISHENG Heavy Duty Ball Bearing Slides with Lock D5115, 1 Pair
Paired slide rails, good quality
Well, I didn't expect there to be a couple inside. good quality
Heavy duty slide with lock
The quality of the item is very good, exactly as described by the seller, very satisfied and completely exceeded expectations
Heavy Duty Drawer Slides
The quality is very good, the workmanship is also good, the installation is very smooth, and the load bearing is also very good. Some things can be put down in the drawer at home, and it is very good to use.
Order
Good service. Only thing was it seemed to take a long time to get delivered