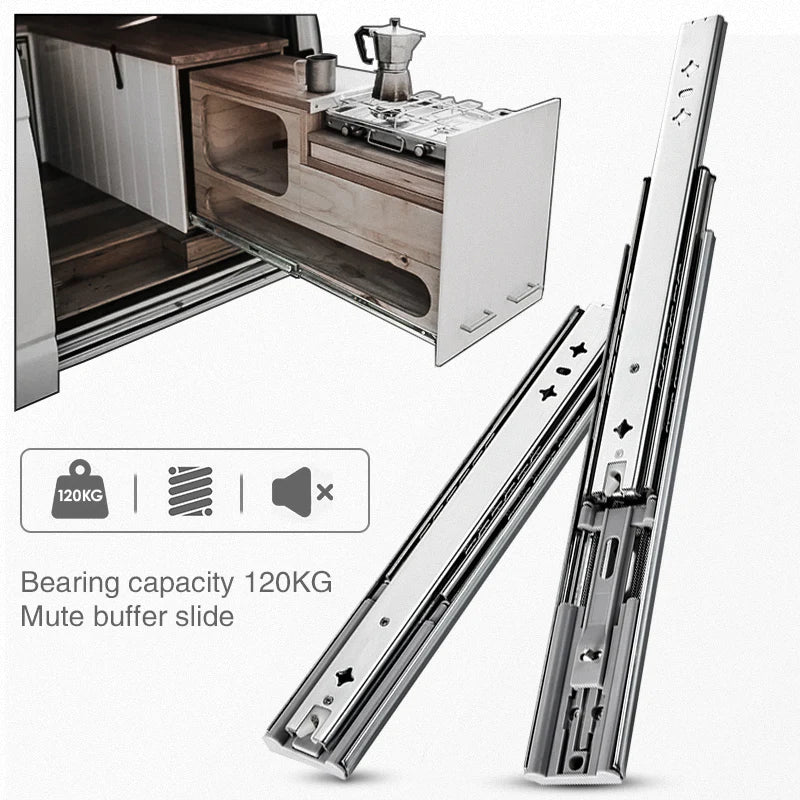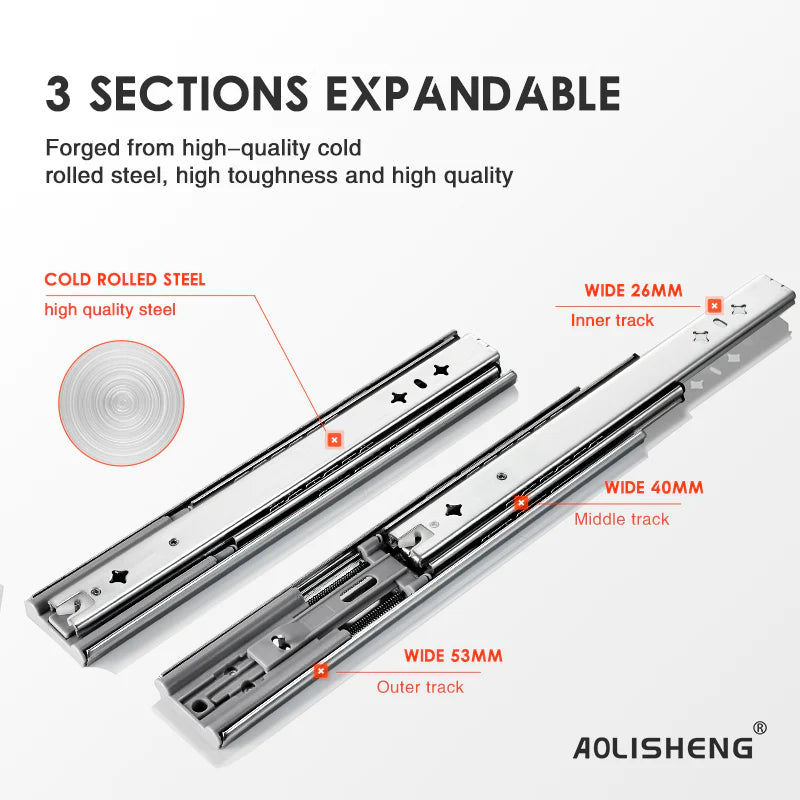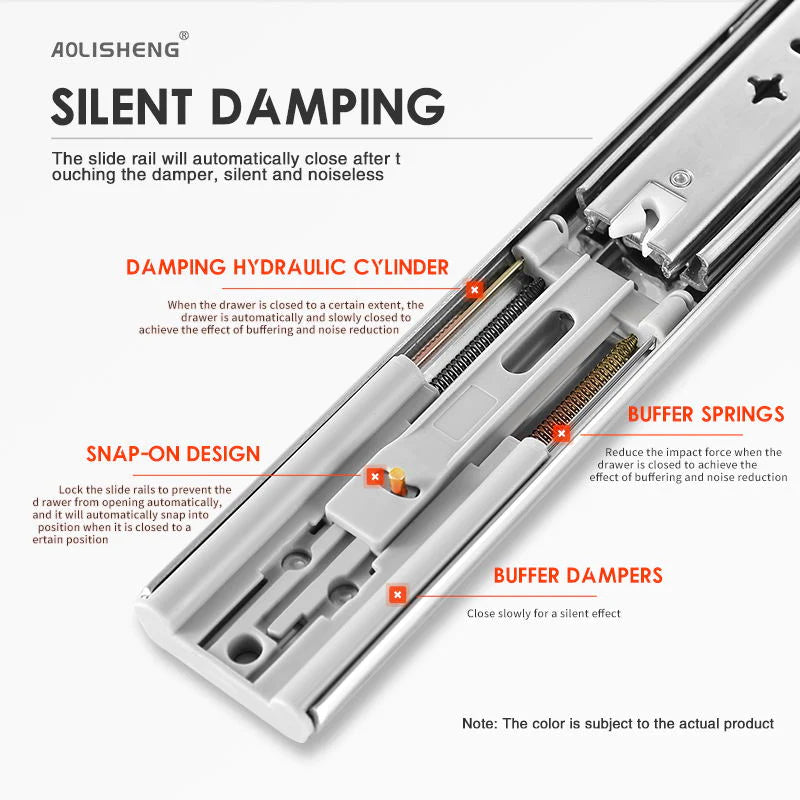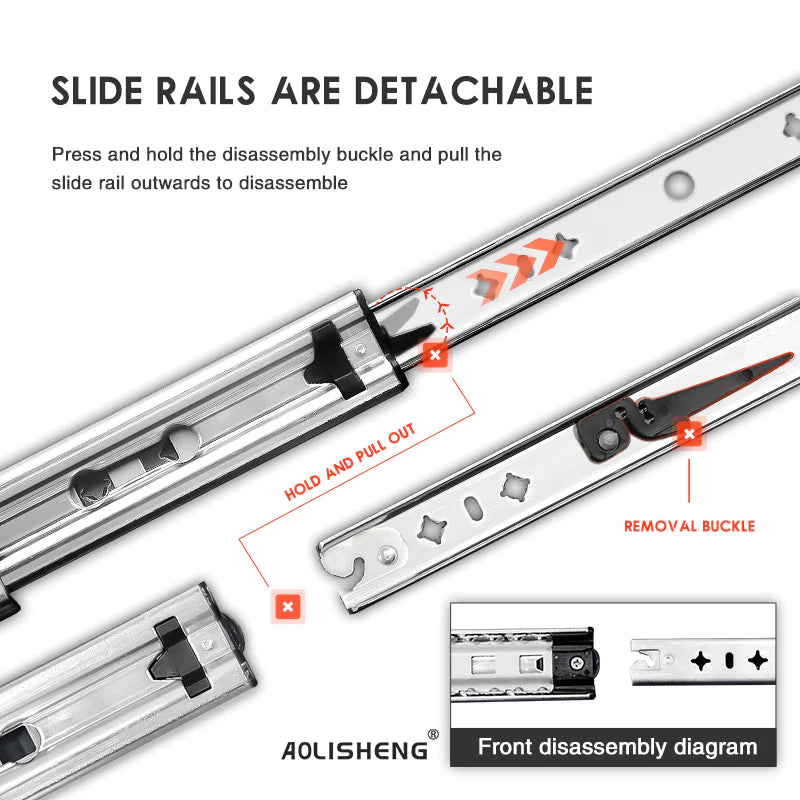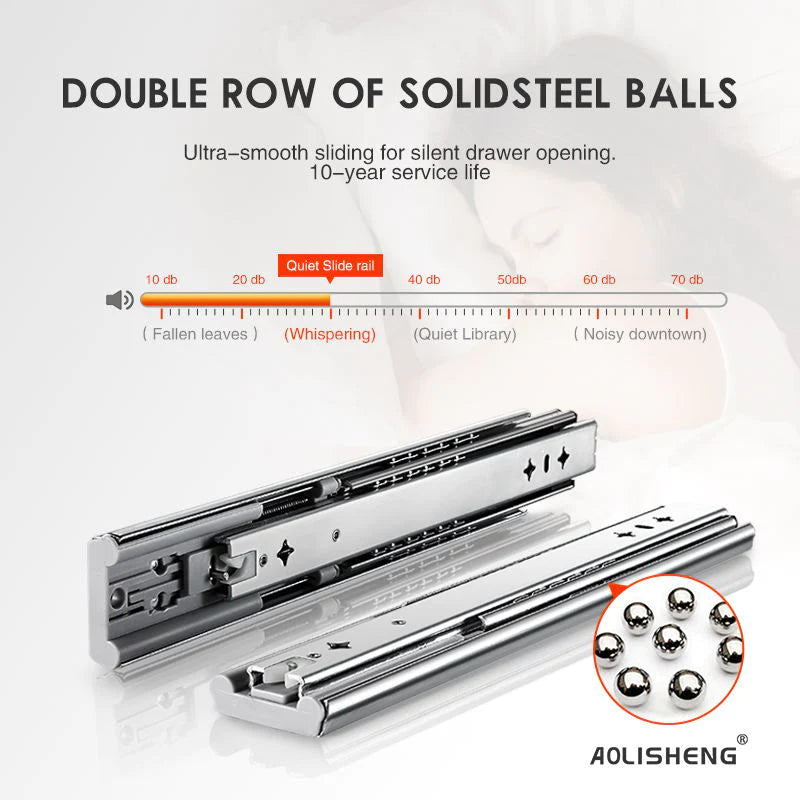 1 Pair 265 lb Load Capacity Heavy Duty Soft Close Side Mount Drawer Slides
In stock
Black friday deals20% Off discount automatically applied at checkout
Heavy Duty Soft Close Drawer Slides
No manual forward gear is required, and the full-length drawer is fixed to prevent bouncing. For use in kitchens, offices, shop fixtures, institutional and residential industries, cabinets, warehouses, containers, industrial drawers, special vehicles.
Discover more about the Heavy Duty Drawer Slides

Soft closing: The design of the buffer rubber pad can avoid the noise caused by the collision when the drawer is pushed and pulled, and can also prevent children from pinching their hands.
Smooth sliding: double-row solid ball design, the drawer slides smoothly, does not get stuck and does not rust, and is durable.
High-quality material: The track is made of high-quality stainless steel, bright in color, anti-corrosion and anti-rust, and can be used in wet spaces such as toilets.
Three sections: The three sections of track can be fully pulled out, allowing you to make full use of the storage space of the drawer and make it easier to access items
Surface treatment: seal blue (with anti-rust oxidation effect)
Precautions for slide rails
Due to different usage scenarios, the product does not include screws. M5 screws can be purchased by yourself.
Product Dimensions:
Width: 53MM
Thickness: 2.0MM
Include Size: 12 14 16 18 20 22 24 26 28 30 32 inch
Craft:
Material: Q235 cold rolled steel
Deal With: Surface electroplating blue zinc
Structure:Detachable
Function: soft close
Installation Requirements:
Installation thickness: 19+0.5mm
Load capacity: 120KG/265LB
Installation method: side mount
Plate Thickness: Outer Slider (2.0mm) / Middle Slider (2.0mm) / Inner Slider (2.0mm)
Application Scenario:
shelves, cabinets, industrial drawers, RVs, trucks, woodworking, vending machines, etc.
Bulk Purchase Discounts: Please Contact us
Return
Time limit for accepting returns
We accept 15 days to returns,from the day customer received the product and order finished,if product has any quanlity problem,we will according to the condition to return.
If you would like to return the product for different reasons, you have to pay the shipping fees according to the distance.All returns must be authorized by AOLISHENG. Any return without our prior knowledge will not be accepted and a refund will not be issued.,Please contact us before you return
Contact Information
Fill out the contact us form page(Contact us)
Send message to our offical email box(info@aolisheng.com)
Whatsapp:+86 15200568538
Then there's the after-sale service will contact you to confirm return
Below condition need to be attention: 
Refurbished or used products are not refundable.
Customers will be responsible for all shipping charges.
Products must be returned in original packaging, in like-new condition. Customers are responsible for the correct re-packing of products when returned to ensure damage does not occur during shipment.
For returns, international customers are responsible for all shipping charges as well as any applicable duties and taxes.
Once the return confirm,we will offer the return address.
Change&Cancellation
You have the right to cancel or modify an order before it ships, but we do not accept any changes or cancellations to custom orders.
All interpretation rights belong to AOLISHENG.
Timing and 1 broke on install
Customer service was wonderful before/after but took 16 days to arrive and was told expedited shipping. 1 track broke on install and to get a new track would take more time and to return would cost more money. All in all tracks work great