Aolisheng is the earliest professional manufacturer of industrial system slide rails in China.
Three types of heavy-duty ball slides: load-bearing from 68 kg to 220 kg, the 51 series can support 68 kg, the 53 series can support 120 kg, and the 71 series can support the load.
150 kg, the 76 series can bear a weight of 220 kg, covering industrial applications in the fields of machinery, automobiles, cabinets, electronics, rail transit, ATM machines, and military systems.
All walks of life/professionals do professional things.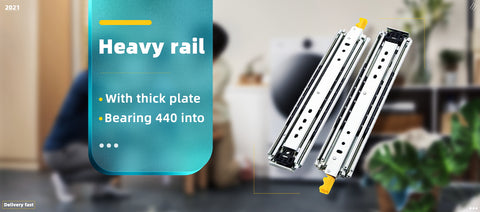 Today we will focus on the 76 series of heavy-duty lock slides
What is a heavy-duty slide with lock?
Locking is a mechanism that locks the slider in the open state until you pull the lever to release it.The belt lock is a two-way locking device.It can be locked when pulled out and completely closed.The locking handle must be pressed when pulling out and closing.No position in the middle can be locked, and the drawer will not come out when it is tilted.
What is the load-bearing capacity of 76 broadband lock slide rail
18-inch test load 227, the marked load-bearing capacity is: the load-bearing range within 18 inches, the load-bearing beyond 18 inches is relatively weak, the longer the length, the greater the resistance, the lower the load-bearing, the load-bearing capacity is relative to every 2 inches long Will decrease.3 kg
Why does this model have no damping function?

Because the damping effect is related to the length of the slide rail and the bearing capacity of the slide rail, there is no damping effect when the load is 200 kg.Therefore, the high load-bearing slide rail is not made of damping style, only the normal style and the lockable 76 wide series.


But we also have 53 heavy rails with 12 inch-32 inch sizes which are heavy rails with damping function.

Click to understand "53MM wide drawer slide rail disassembly and assembly load-bearing test"


Aolisheng specializes in the production of slide rail hinges, heavy slide rails, damping slide rails, stainless steel slide rails, hydraulic hinges, stainless steel hinges, damping hinges, and drawer slide rail guides.Consultation hotline: 13726341871 The product is suitable for high-end cabinets, wardrobes and bathroom cabinets and other supporting hardwareEverything is centered on customer needs, and we hope to provide you with more comfortable service through professional and unremitting efforts!