Size:12 14 16 18 20 22 24 26 28 30 32 34 36 38 40 44 48 52 56 60 inch:
Size:12 14 16 18 20 22 24 26 28 30 32 34 36 38 40 44 48 52 56 60 inch
76MM Wide Locking Heavy Duty Drawer Slides
This is a heavy duty industrial slide ideal for large drawers.
Full three-section design, can make full use of the drawer space and.
Locking drawer slides,with lock function, increase the safety of use
Using 2.5mm thick Q235 cold-rolled steel, the slide rail can load 500 lbs after being pulled out.
The inner steel ball adopts industrial bearing steel ball, which makes the pulling more smooth.
This is an excellent product that combines functionality and aesthetics.
These are far better than what I way expecting, Worked for what we needed. Easy to install. Price and size of slides fit our budget and our project. Great product
The slides showed up quickly and are really well built!!!
I worked with the customer service to remedy some problems with an earlier order and they went above and beyond to make it right. I just got my order and theyre perfect and arrived in time for my project this weekend. I really like the locking mechanism
I was worried about how to install these. I had a limited knowledge on drawer slides and found these to be strong and easy to install.I will certainly buy this brand again.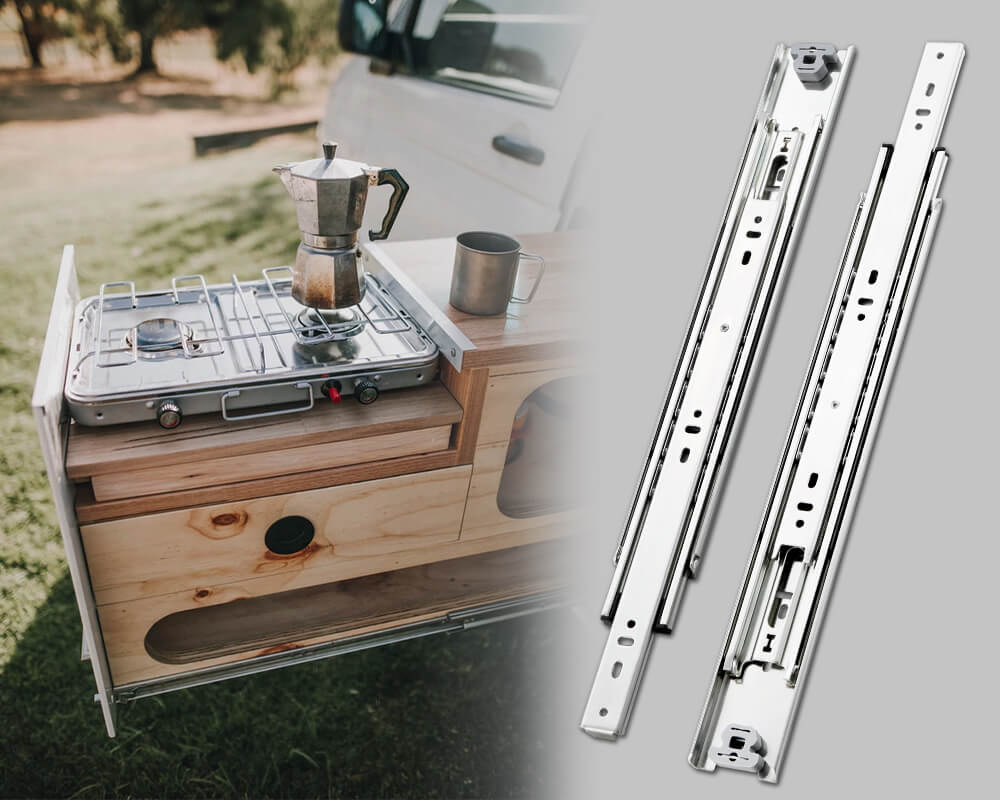 Full Extension Drawer Slides
Full extension drawer slides now order 2 pairs to enjoy 5% discount, order 4 pairs to enjoy 15% discount
Heavy duty full extension drawer slides support access to the whole space, for easy storage of items.
The surface of the slide rail is treated with galvanized blue sealing process, and enhances oxidation resistance and corrosion resistance.
All of which are made of solid steel balls. effectively increase the load-carrying capacity of the slides.
Add better uses to your home or drawers with Full extension drawer slides today!!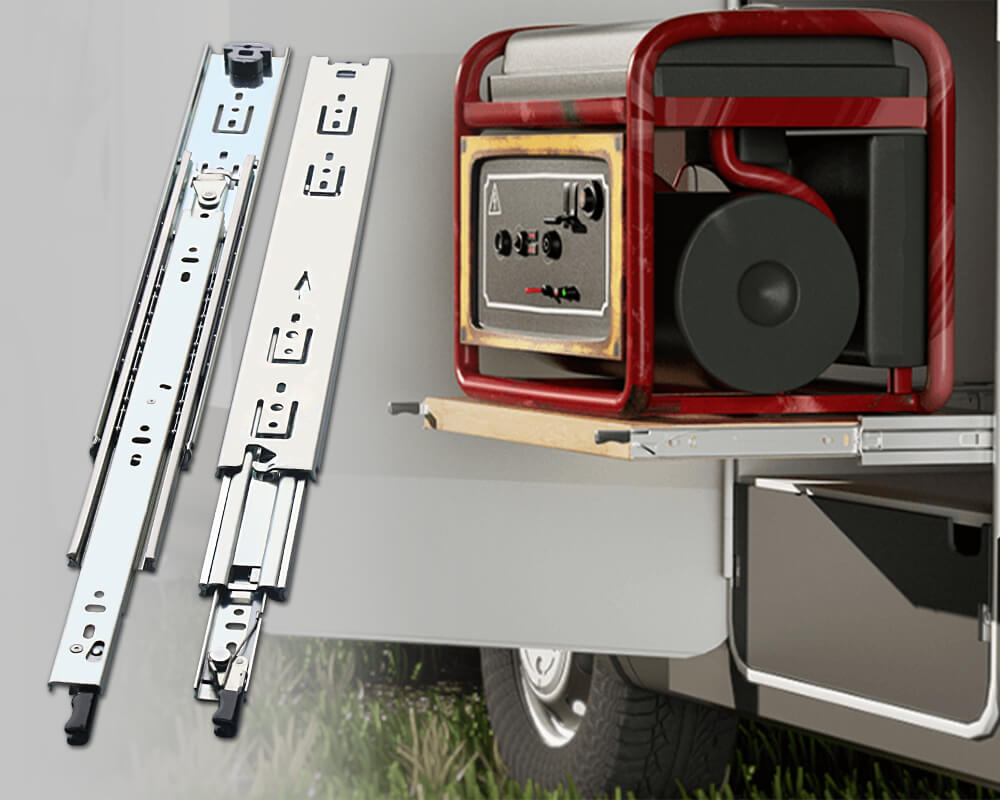 Locking Full Extension Drawer Slides
Lock in drawer slides Pull the lock handle to unlock and lock, detachable easy to use
Surface galvanized blue sealing process, double-layer anti-rust
Locking full extension drawer slides the carrying capacity is three times that of ordinary slide rails, and the maximum carrying capacity is 150lb
Made of thickened Q235 high-strength cold-rolled steel, it can support heavy loads and store without deformation
Upgrade your drawer with our high quality locking full extension drawer slides!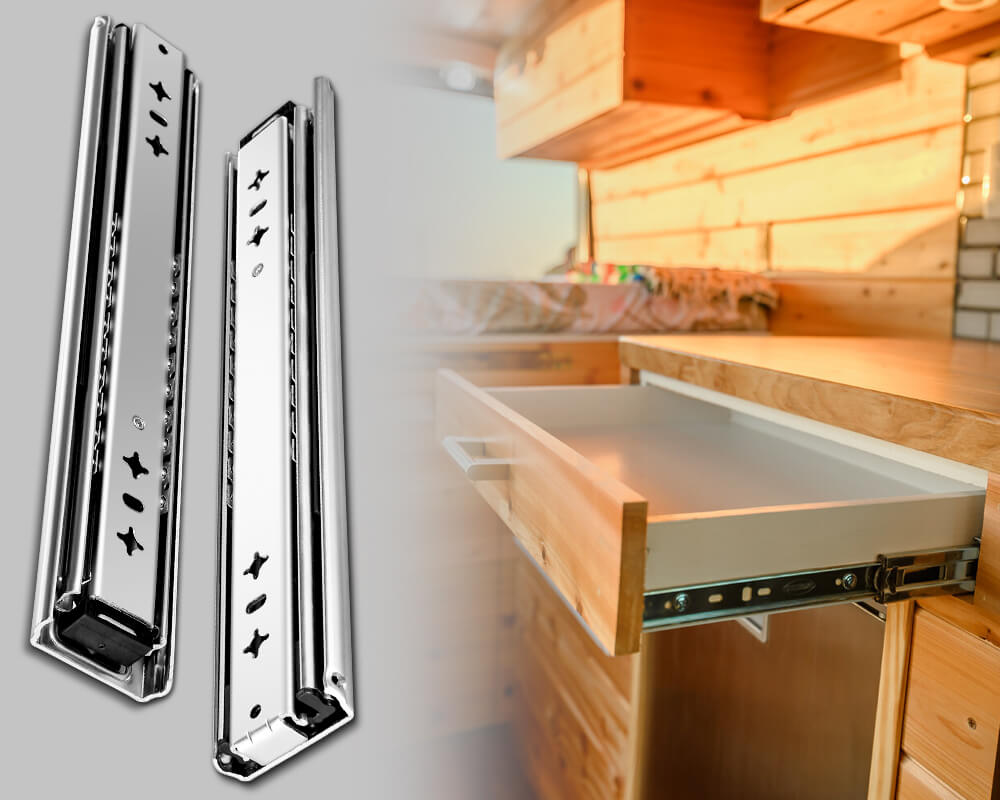 Heavy Duty Ball Bearing Slides
There is a plastic buckle on the back of the slide rail, by pressing it to removed the inner rail for easy installation and cleaning.
Heavy duty ball bearing drawer slides pull smoothly and last up to 30 years
The surface is treated with galvanized blue sealing process for double layer rust prevention
Drawer slides side mount the carrying capacity is four times that of ordinary slide rails, and the maximum carrying capacity is 265lb
Heavy Duty Ball Bearing Slides suitable for car modification, mechanical equipment, shelf toolbox, etc……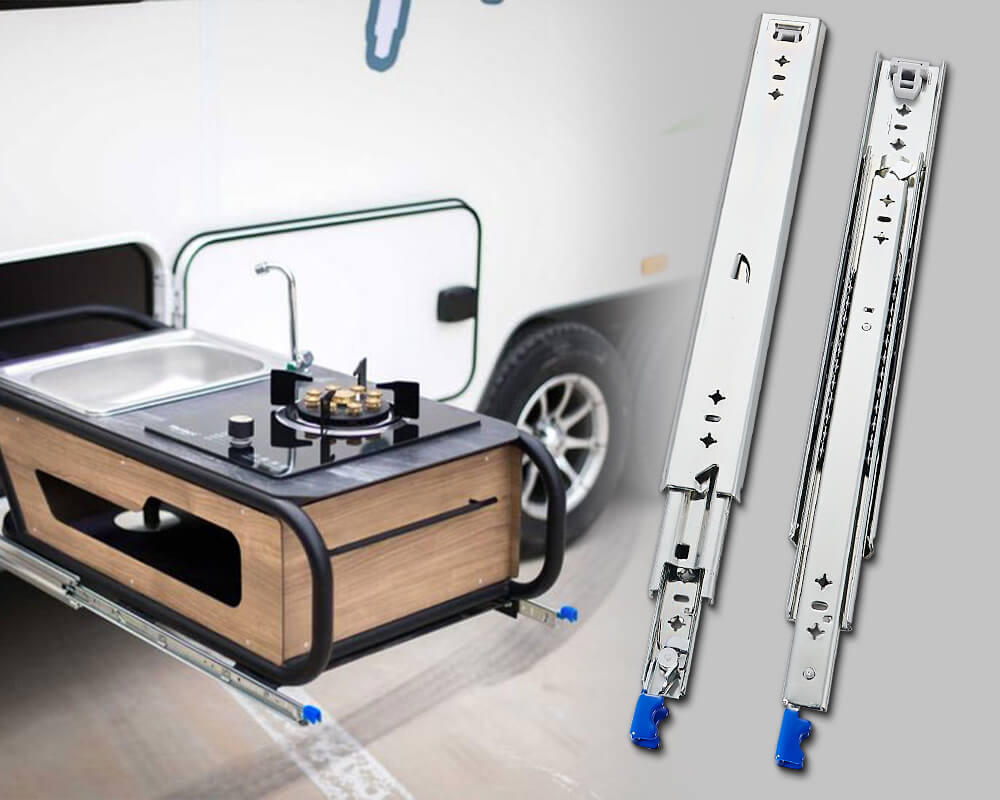 Looking For Heavy-Duty Drawer rails That Hold up to 265 Lbs and Are Easy to Remove?
Drawer slides side mount Tested under full load, it can reach 150,000 opening and closing times.
Full extension drawer slides lockable design, detachable, easy to install, Load capacity up to 256lbs.
Locking heavy duty slide rails very suitable for industrial drawers,fire trucks, ambulances, DIY RVs,etc…
Don't settle for flimsy drawer slides, upgrade to our lock in drawer slides high quality solutions today!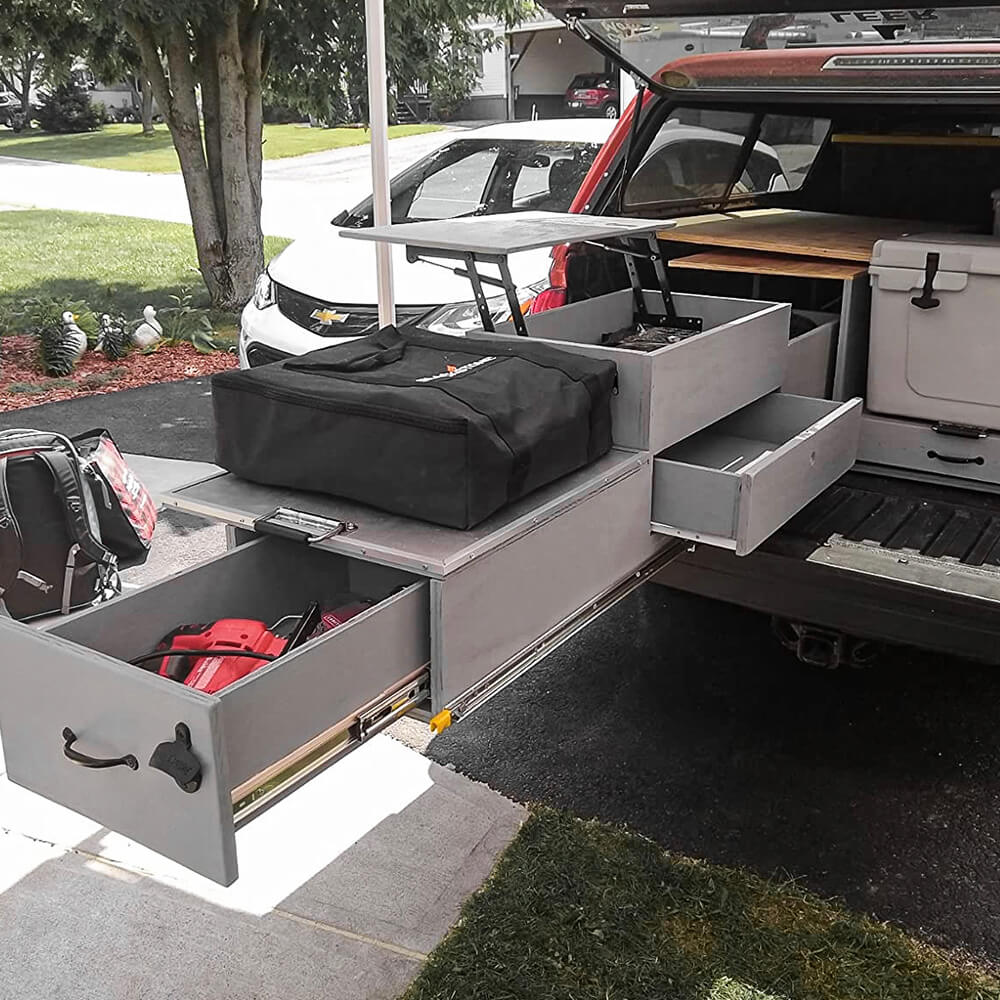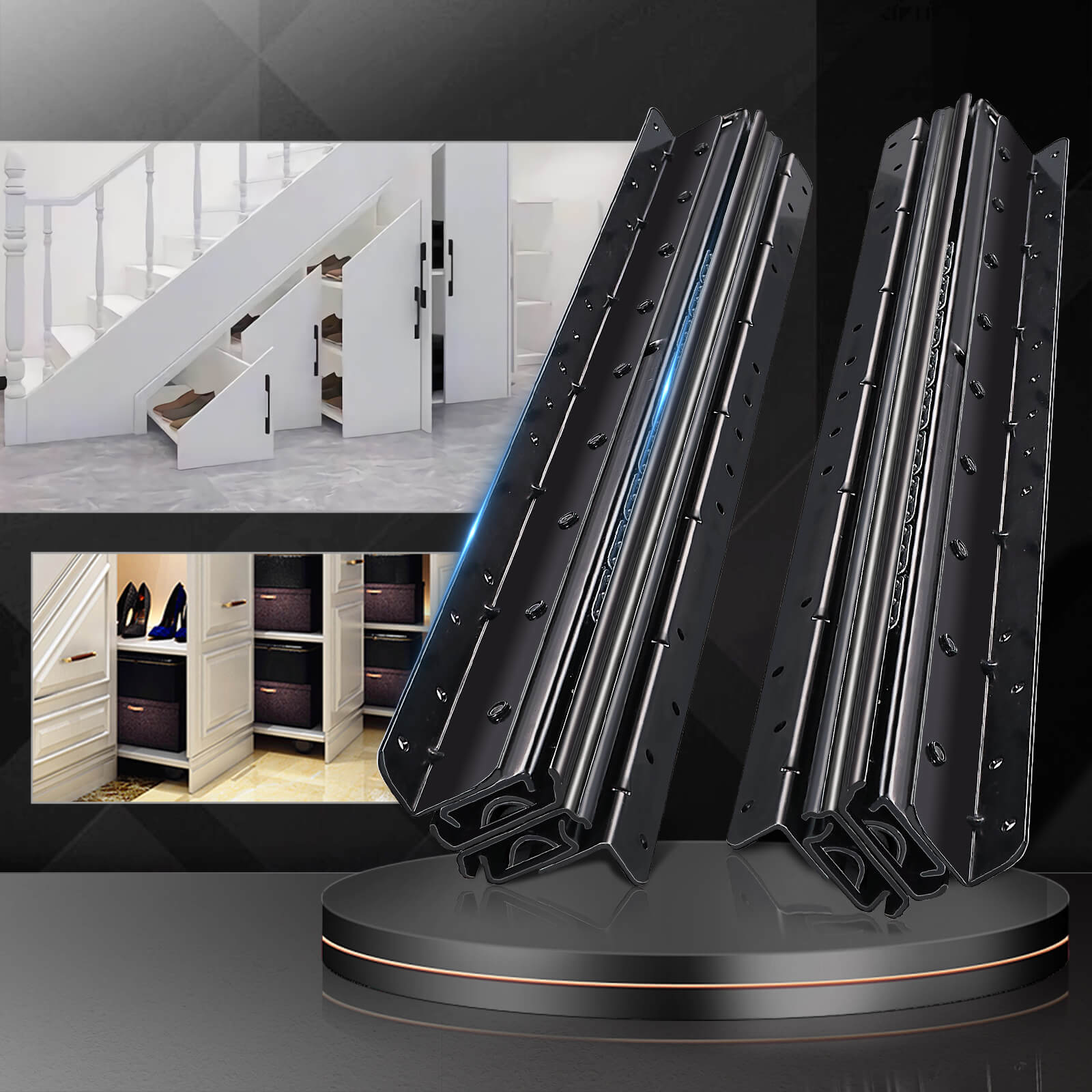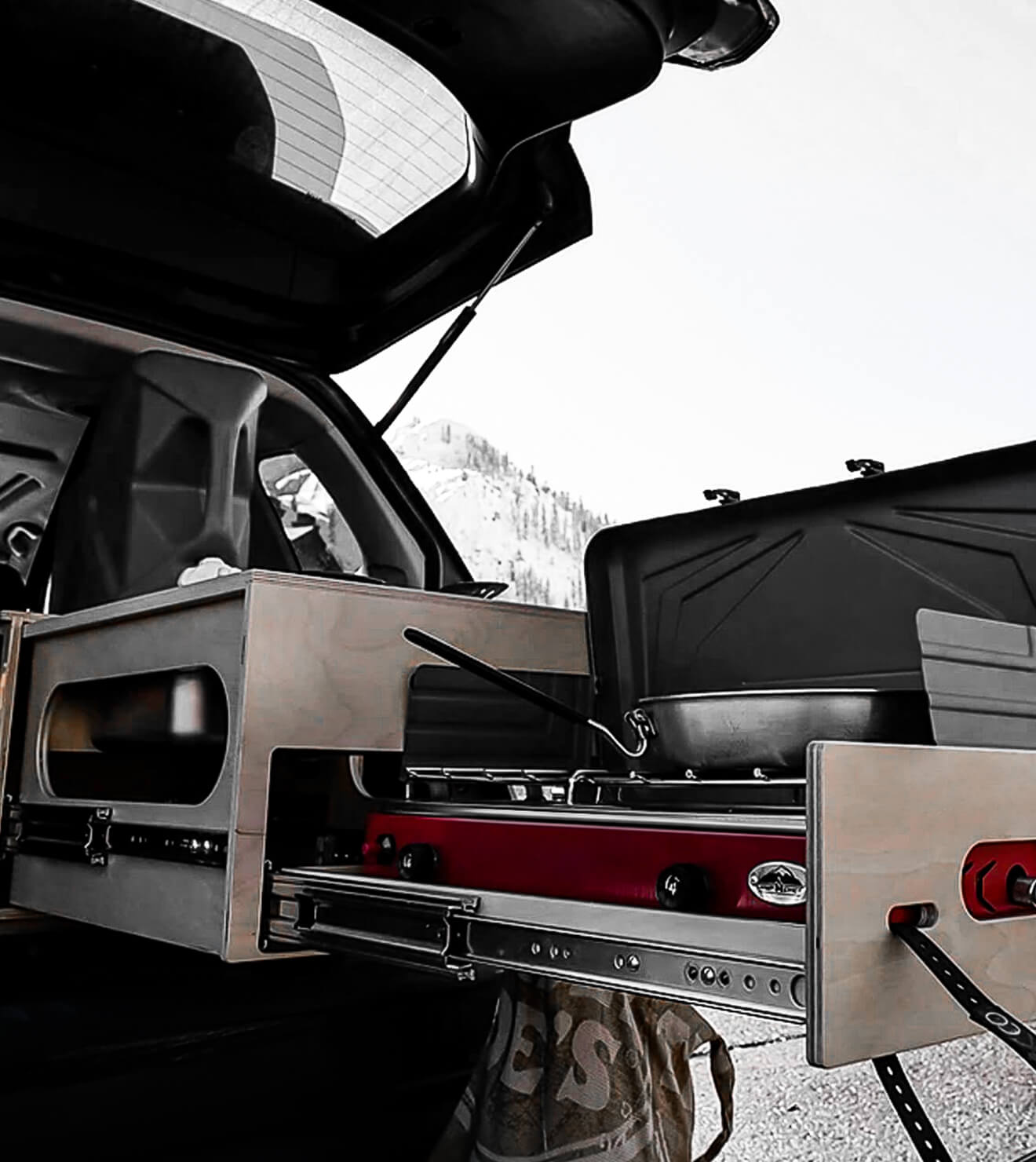 Drawer Slide Solution Expert
Since its establishment in 2009, the company has been unswervingly committed to the research and development of heavy duty drawer slides for many years, constantly breaking through and innovating
In our relentless pursuit of excellence, we have assembled a highly skilled Team of engineers and designers with a deep understanding of sliding dynamics. This expertise allows us to conceptualize and design products that are not only reliable but can be tailored to the unique needs of different clients.
With our unwavering commitment to innovation and dedication to quality, we've become the #1 selling drawer slide on Amazon.
It proves that AOLISHENG has become the trustworthy first choice of customers in the drawer slide market.We pride ourselves on offering the most comprehensive line of heavy duty drawer slides sizes exclusively in the United States. With our large inventory in warehouses across the United States, coupled with advanced technology and logistics systems, fast and accurate order processing is guaranteed. So rest assured, you can easily place your order online and be sure to find the best item for your needs.
Shop with us today and experience unparalleled selection and convenience.
Leading Brand Of Industrial Slide Rails
Full pull-out heavy-duty drawer slide rails offer easy access to stored items with a locking mechanism that can handle up to 500 lbs. They have been tested for over 200,000 cycles and have a lifespan of up to 30 years. Perfect for rv/ car modifications, mechanical equipment, shelf toolboxes, and more.
Side Mount Heavy Duty Drawer Slides
This is side mount installation design, the bottom installation is unable to guarantee load-bearing and normal operation. You can search for our brand, we have two bottom-mounted slide rails, you can see if it is suitable.
The slide can be installed on the side of the tool box so that the tool box can be pulled out from the inside.
It is not recommended to do this, this is a side-mounted slide, the load capacity of the bottom installation will be reduced by 90%
The maximum weight of 76MM wide drawer slides is 500 lbs, the maximum weight of 71MM wide drawer slides is 330 lbs, the maximum weight of 53MM wide drawer slides is 256 lbs, the maximum weight of 51MM wide drawer slides is 150 lbs, and the maximum weight of 47MM wide bottom-mounted drawers Rails, maximum weight 260 lbs
It is important to know the dimensions of the particular drawer you are considering and the weight of the stored items.
If you don't know what width of drawer slides to use, please contact us to give you the best solution.
Heavy duty drawer slides are specially designed to support heavier loads than normal drawer slides. They can hold the weight of larger, sturdier items such as car modifications, mechanical equipment, shelf tool boxes, and more. . Regular drawer slides have a lower load capacity and are suitable for lighter items such as bedroom chests of drawers or kitchen utensils.
Locking Heavy Duty Drawer Slides
Lock when the drawer is closed and when the drawer is fully opened。
NO, the lock handle is fixed by rivets and cannot be disassembled, but the third track can be disassembled. Press the lock handle to unlock the position and pull it out.
You will only need to engage the latches to unlock. While the drawer is sliding you will not need to apply continuous engagement on the latches. You will need to engage them to open to mid point, to open from mid point to fill open, to close from full open to mid point and to close from mid point to full close.
Bottom Mount Drawer Slides
1. The reserved height of the cabinet and the bottom plate is 53.8mm.

2. The maximum bearing capacity of the track is 260lb, and the width W of stair cabinet is recommended to be between 30-60cm.

3. The outer frame space must be longer than the track length D (remember to add the thickness occupied by door panel and back panel).

4. There can be no vertical plate support in the middle of the cabinet, otherwise it will affect the normal installation of the cabinet.
Other
You can contact us through our contact page! We will be happy to assist you.